Types of reusable nappies
Modern-day cloth nappies have evolved beyond the folded terry squares, nappy pins and pull-up pants (although these are still available!). There are now several different types of nappy system, which make using cloth nappies even easier than before.

Here is a guide to the nappy types that I sell and advise on.

All-in-one

nappies
As the name suggests, these nappies are a complete one-piece nappy system consisting of the main body of the nappy and an integrated waterproof cover. They are as simple to use as a disposable nappy, and have been popular with nurseries and childminders alike. They are ideal for a quick, convenient nappy change, but the complete nappy will need to be washed after each change.

All-in-one nappies are either available as a one size (birth-to-potty) nappy or they can be multi-sized.
Two-piece

nappies
These are shaped nappies which fasten with either velcro, poppers or nappy nippas (modern equivalent of nappy pins). The nappies will require a separate waterproof wrap over the top of the nappy; the majority of these fasten with velcro or poppers as well. Although the nappy will need to be washed after each nappy change, the advantage of this type of system is that the waterproof cover does not need to be washed each time. Hence, you will only need about 1 waterproof cover for every 4 or 5 nappies.

The two-piece nappies are either available as a one-size (birth-to-potty) nappy or they can be multi-sized. The waterproof wraps are also available in a variety of sizes and patterns.
back to top

Flat nappies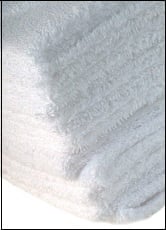 Flat nappies are nappies which need to be folded first and placed inside a breathable waterproof wrap. These range from traditional terry squares to modern-day cotton prefolds.

Terry squares are either made of cotton or bamboo and can be fastened with either nappy pins or nappy nippas (a T-piece of plastic which grips onto the outside of the fabric at three points). Cotton/organic cotton prefolds are rectangular pads of cotton/organic cotton which are folded into a rectangular pad and do not require fastening.

The advantage of terry squares or prefolds is their cost, as they are significantly cheaper than shaped nappies. They will also dry flat which aids drying time.

Flat nappies usually come in two sizes: birth-18lbs and 18-35lbs.
back to top

Pocket (or stuffable) nappies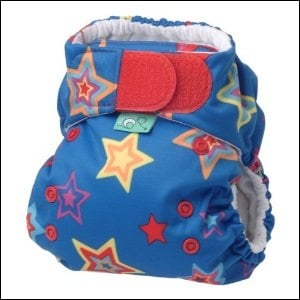 Pocket (also sometimes known as 'stuffable') nappies consist of a waterproof wrap with a built-in pocket, which is then stuffed with an absorbent pad. Many pocket nappies are supplied with a nappy pad included, but other pads, such as cotton prefolds, terries, muslins or booster pads can also be used. The pad is removed from the wrap before washing, and although both wrap and pad will need to be washed each time, the drying time is usually quick.

The advantage of a pocket nappy is that the pad wicks moisture away from the baby's skin, so will keep the baby dry. This type of nappy are especially good for night-time, as they can be boosted if necessary.

Pocket nappies are available as either sized nappies, or as birth-to-potty nappies.

back to top