Why use cloth?
Modern-day cloth nappies are extremely simple to use and come in a huge variety of styles, fabrics, colours and prices. They are soft, comfortable and breathable, and have benefits for parents and babies alike. Here are just some of the advantages of using cloth nappies.
Modern cloth nappies have evolved beyond the bulky terry squares, nappy pins and pull-up plastic pants many of us still remember. Although these are still available, most cloth nappies are now shaped (to eliminate the need for folding) and fasten with velcro and poppers. The outer wraps are waterproof to prevent leaks and fasten with velcro or poppers. The nappies and the wraps are fully breathable to allow the baby to stay cool with less chance of nappy rash. Advances in technology have produced a range of nappy fabrics (such as bamboo, fleece and microfibre) and styles of nappies (sized or birth-to-potty) to enable the nappies to remain slimline while allowing great absorbency.
Washing and drying the nappies couldn't be easier either and so much simpler than in the past. The nappies are all machine washable at 40ºC (or possibly 60ºC), and there is no need to pre-soak the nappies in a bucket. They can all be tumble dried, if required, although many of the types of nappy will not need to be tumble dried as they are made from quick-drying fabrics.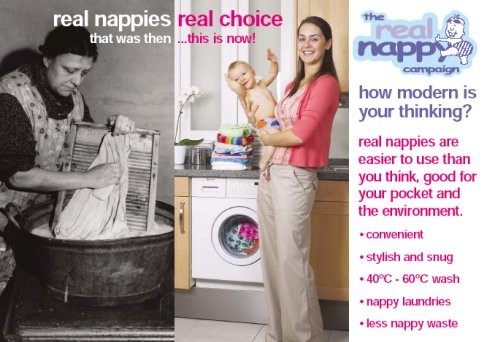 A typical baby will need approximately 4500-5000 nappy changes over 2.5 years (that's equivalent to about 40 shopping trolleys full of nappies!). On average, disposable nappies cost betwen£1000-£1200 (although a recent article by The Guardian estimated the cost to be£1800!). On the other hand, cloth nappies can cost between £100-£300. Even adding on the cost of nappy accessories (liners, wipes, sanitizer, etc; up to £100) and the cost of home laundering the nappies (~£1 per week), a family can save in the region of at least £500 by using cloth nappies for one child. The nappies can then be reused for subsequent children, hence increasing the savings even more!

back to top

Did you know that 8-9 million disposable nappies are thrown away each day in the UK? This is equivalent to 690,000 tonnes of nappy waste each year. Each time a reusable nappy is used instead of a disposable, it will help to reduce landfill waste and protect our environment. Most disposable nappies contain chemical gels (many of which are unlabelled on the packaging) which clump together when the nappy is wet to draw moisture away from the baby's skin. These gels take over 500 years to decompose on a landfill site.
Landfill space is limited and in some areas, trials are already underway to charge householders for the amount of rubbish they throw away. Using cloth nappies can significantly reduce your weekly household rubbish, as well as helping towards protecting the enviroment.
Many local councils now run a nappy incentive scheme, to thank parents for making the switch to cloth nappies and helping to reduce landfill waste. This is usually in the form of a one-off cash payment (depending on the council) upon production of a cloth nappy purchase receipt. For details of the incentives in Bedford Borough or Central Bedfordshire, click here.
There are many benefits for babies who wear cloth nappies. Firstly, you can control what you are putting against your baby's skin. Disposable nappies are made of super absorbent chemicals, paper pulp, plastics and adhesives. Washable nappies, in contrast, can be made from cotton, bamboo, fleece and microfibre. These fabrics do not over-dry your baby's skin and are fully breathable, ensuring that your baby stays cool throughout the year.
Although cloth nappies are not bulky, they can provide a bit of extra support for your baby's spine, especially when the baby is learning to walk. A baby will not have any problems with mobility because of the nappy he/she is wearing; after all, most of us wore terry squares and we are all fine! In addition, in some cases, a cloth nappy baby may start to toilet train slightly earlier than a disposable nappy baby, because of an increased awareness of the sensation of needing the toilet.